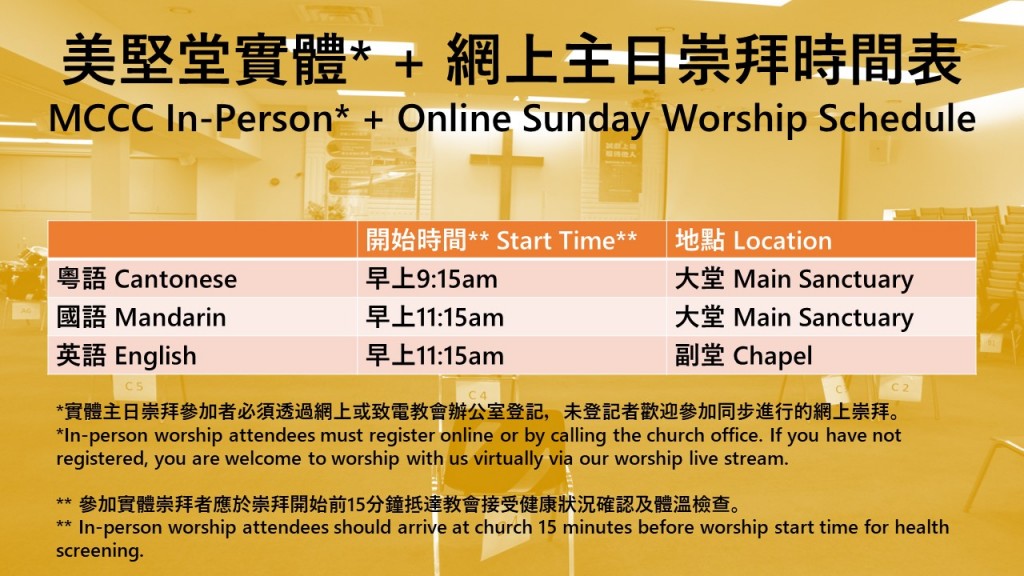 MCCC SUNDAY WORSHIP LIVE STREAMS 美堅主日崇拜網上直播網址: (9月19日 September 19)
粵語堂崇拜 Cantonese 9:15am: https://youtu.be/1eo9cX46x1A
英語堂崇拜 English 11:15am: https://youtu.be/E8RgjCC4Xow
國語堂 ZOOM 崇拜直播平台 Mandarin Zoom Worship Live Stream 11:15am: https://us02web.zoom.us/j/87570055078?pwd=bi9vbDJxQmZxd2dYZ0NXaG13eXp5UT09
會議 ID: 875 7005 5078  密碼: 123123
兒童主日學於今主日上午9時15分或11時15分於樓下B10室舉行,未體參加實體課堂的兒童,可透過Zoom 鏈結同步上課。
早上9時15分( 實體兒童主日學)
早上11時15分 (網上及實體兒童主日學)
A new semester of Children's Sunday School starts this Sunday at 9:15am/11:15am downstairs in room B10. If children cannot join the in-person class, they can use Zoom to join the class virtually.
9:15am (In person only)
11:15am Zoom and In-person class
https://us02web.zoom.us/j/88021996139?pwd=OEVnbVdVSVRsay9TcGV3WEtIM1Q4dz09
Meeting ID: 880 2199 6139 Passcode: 111222
MCCC SUNDAY BULLETIN 主日崇拜程序表及家事報告: (9月19日 September 19)
粤語堂 Cantonese: http://mccc.on.ca/wp-content/uploads/2021/09/210919C.pdf
英語堂 English: http://mccc.on.ca/wp-content/uploads/2021/09/210910E.pdf
國語堂 Mandarin: http://mccc.on.ca/wp-content/uploads/2021/09/210919M.pdf
The church has started physical worship on Sundays:
• Cantonese congregation: 9:15am (Sanctuary) <Max: 59 people>
• Mandarin congregation: 11:15am (Sanctuary) <Max: 59 people>
• English congregation: 11:15am (Chapel) <Max: 22 people>
Brothers and sisters who wish to participate in physical worship should register online and fill in the health declaration. If you cannot register online, please call the church office.
The registration period for the worship will be Thursday 10 am to Saturday 12 noon before the worship (e.g. for August 15 service, registration starts on August 12 at 9:30 am to August 14 at 12 noon). Up to 5 family members can be registered at the same time. In addition, please select for each participant, whether the participant will join the adult worship or Children Sunday school.
Further questions about the church reopening are addressed in our Question and Answer sheet: http://mccc.on.ca/?p=20446
** In order to provide safe face-to-face services while protecting other brothers and sisters, the church strongly recommends that those who plan to come for face-to-face meetings first be vaccinated against COVID-19 (new coronavirus).
Brothers and sisters who cannot participate in in-person worship can still join virtually via YouTube live stream (Cantonese/English) or Zoom (Mandarin).
MCCC is now accepting offering through online banking portals of Canada's major banks. Instructions: http://mccc.on.ca/?p=16627
For inquiries, please call 416-498-3399 or email to millikenchristianchurch@gmail.com
---
Offering to the Church
(a) For those who have been making offering using cheques or cash, please continue to do so. Due to current situation, we encourage brothers and sisters to put aside the cheque/cash until the church is open again.
(b) Or you can mail the cheques to church noting your offering number and fund type (general, building, missions,
benevolent, thanksgiving). The church address is: 390 Bamburgh Circle, Scarborough. ON M1W3X3.
(c) Congregation members may now make offering to MCCC online through the websites/apps of Canada's "Big 5″ banks:
- Bank of Montreal (BMO)
- Canadian Imperial Bank of Commerce (CIBC)
- Royal Bank of Canada (RBC)
- TD Canada Trust
- Scotiabank
You will be using your 5 digits offering number to set up the
Bill Payment donation process.
If your offering number only has 3 digits, please add two
zeros in the front. (i.e. 00123)
Assume your Offering Number is 12345.
Here are 4 account numbers that you will be using for Bill
Payment donation.
12345G / 12345B / 12345M / 12345T
- To donate into General fund, use 12345G
- To donate into Building fund, use 12345B
- To donate into Missions fund, use 12345M
- To donate into Thanksgiving fund, use 12345T
Please follow the steps below:
1. Login to your Internet banking account in bank website or
mobile banking app.
2. Add Billing Company/Payee
a. BMO, RBC, TD and Scotiabank: Search "Milliken Christian Community Church"
b. CIBC: Search "Milliken Christian Com. Church".
3. Use the accounts numbers from above as the account
number.
4. If you want to donate into multiple funds (General,
Building, Missions, Thanksgiving), you will need to setup
multiple Billing Company/Payee with each account
number.
Any question, please contact Deacon Steve Chao (MCCC Treasurer), 647-525-8889
---
 Children Ministry

A new semester of Children's Sunday School has started on September 12, 2021 at 9:15am or 11:15am downstairs in room B10. If children cannot join the in-person class, they can use Zoom to join the class.
9:15am (In person only)
11:15am Zoom and In person class
https://us02web.zoom.us/j/88021996139?pwd=OEVnbVdVSVRsay9TcGV3WEtIM1Q4dz09
Meeting ID: 880 2199 6139 Passcode: 111222
Every Wednesday from 4 pm to 4:45 pm, Pastor Tim will meet with students of Grade 1-6 students through Zoom. Our after school program includes learning skills at school, online group games and Bible stories.
For inquiries and registration, please contact Pastor Tim 416-709-1313 or mccc.timy@gmail.com
https://us02web.zoom.us/j/83730891901?pwd=V1E1dVNBYXZ1Z2NuRXdDaTNnY1l6Zz09
Meeting ID: 837 3089 1901 Passcode: 333444
Parent may access the following Facebook page with their children for messages and interact with Pastor Tim. Parents may also assist their children in contacting Pastor Tim via email, text message or WhatsApp.
https://www.facebook.com/MCCC-Kids-Corner-109516864036744/