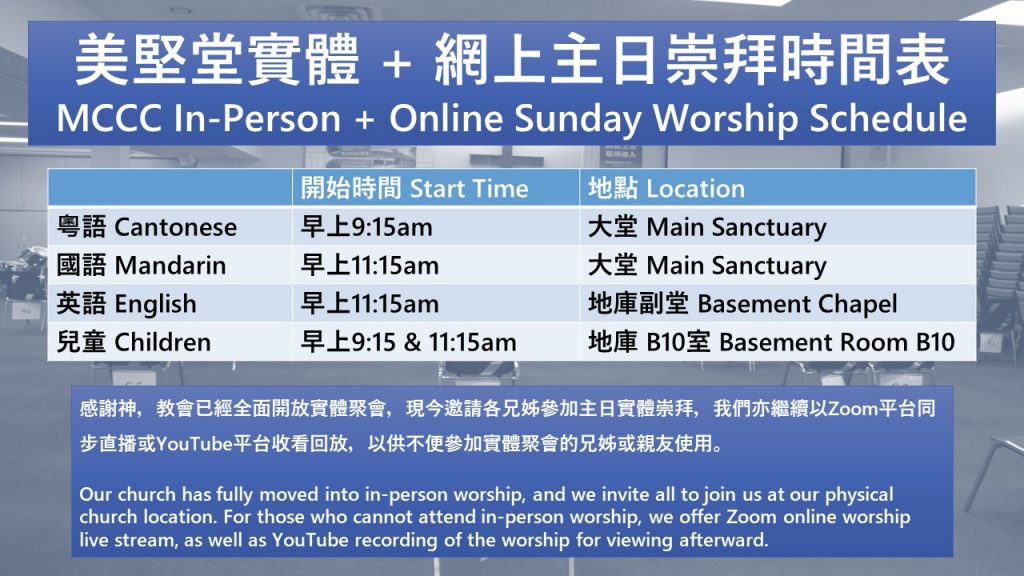 MCCC SUNDAY WORSHIP LIVE STREAMS 美堅主日崇拜網上直播網址:
粵語堂ZOOM 崇拜直播平台 Cantonese Zoom Worship Live Stream 9:15am: https://us02web.zoom.us/j/87262410460?pwd=SDRrKzZrV1U2R3FtcFRWRnZvUFFIQT09
英語堂ZOOM 崇拜直播平台 English Zoom Worship Live Stream 11:15am:
https://us02web.zoom.us/j/88621732238?pwd=Zk1aOWtxdlJxbGFRd1pGb1dXTE5jZz09
Meeting ID: 886 2173 2238 Passcode: 111222
國語堂 ZOOM 崇拜直播平台 Mandarin Zoom Worship Live Stream 11:15am:
https://us02web.zoom.us/j/86869313460?pwd=RE05bEorTTJIcmZjS2FKc0pMTE1EQT09
會議 ID: 868 6931 3460 密碼: 100100
兒童主日學於今主日上午9時15分或11時15分於樓下B10室舉行,未體參加實體課堂的兒童,可透過Zoom 鏈結同步上課。
早上9時15分 (實體兒童主日學)
早上9時15分 (實體6-8年級初中生主日學)
早上11時15分 (網上及實體兒童主日學)
Children's Sunday School is held this Sunday at 9:15am/11:15am downstairs in room B10. If children cannot join the in-person class, they can use Zoom to join the class virtually.
9:15am (In person only)
11:15am (In person Grade 6-8 Jr. High Sunday School)
11:15am (Zoom and In-person class)
https://us02web.zoom.us/j/88021996139?pwd=OEVnbVdVSVRsay9TcGV3WEtIM1Q4dz09
Meeting ID: 880 2199 6139 Passcode: 111222
MCCC SUNDAY BULLETIN 主日崇拜程序表及家事報告: (10月1日 October 1)
粤語堂 Cantonese: http://mccc.on.ca/wp-content/uploads/2023/09/100123C.pdf
英語堂 English: http://mccc.on.ca/wp-content/uploads/2023/09/100223E.pdf
國語堂 Mandarin: http://mccc.on.ca/wp-content/uploads/2023/09/100123M.pdf
Our church has fully moved into in-person worship, and we invite all to join us physically at our church location. For those who still cannot attend in-person worship, we still offer Zoom online worship live stream, as well as YouTube recordings of the worship for viewing afterwards.
MCCC is now accepting offering through online banking portals of Canada's major banks.
Instructions: http://mccc.on.ca/?p=16627
For inquiries, please call 416-498-3399 or email to millikenchristianchurch@gmail.com
---
Offering to the Church
Congregation members may now make offering to MCCC online through the websites/apps of Canada's "Big 5" banks:
– Bank of Montreal (BMO)
– Canadian Imperial Bank of Commerce (CIBC)
– Royal Bank of Canada (RBC)
– TD Canada Trust
– Scotiabank
You will be using your 5 digits offering number to set up the
Bill Payment donation process.
If your offering number only has 3 digits, please add two
zeros in the front. (i.e. 00123)
Assume your Offering Number is 12345.
Here are 4 account numbers that you will be using for Bill
Payment donation.
12345G / 12345B / 12345M / 12345T
– To donate into General fund, use 12345G
– To donate into Building fund, use 12345B
– To donate into Missions fund, use 12345M
– To donate into Thanksgiving fund, use 12345T
Please follow the steps below:
1. Login to your Internet banking account in bank website or
mobile banking app.
2. Add Billing Company/Payee
a. BMO, RBC, TD and Scotiabank: Search "Milliken Christian Community Church"
b. CIBC: Search "Milliken Christian Com. Church".
3. Use the accounts numbers from above as the account
number.
4. If you want to donate into multiple funds (General,
Building, Missions, Thanksgiving), you will need to setup
multiple Billing Company/Payee with each account
number.
Any question, please email m3c.finance@gmail.com
---
Children Ministry

Children's Sunday School is held this Sunday at 9:15am/11:15am downstairs in room B10. If children cannot join the in-person class, they can use Zoom to join the class virtually.
9:15am (In person only)
11:15am (Zoom and In-person class)
https://us02web.zoom.us/j/88021996139?pwd=OEVnbVdVSVRsay9TcGV3WEtIM1Q4dz09
Meeting ID: 880 2199 6139 Passcode: 111222